Custom Orthotics in Ottawa
Your Feet are the Foundation for Your Body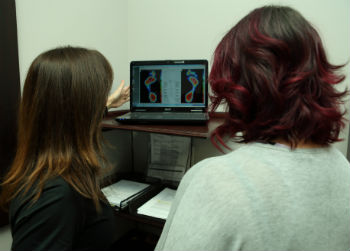 Approximately 80% of the population may benefit from orthotics that correct any dysfunction in the arches of the feet.
If left uncorrected, it may lead to chronic back, knee, hip and foot pain, as well as poor posture, headaches and degeneration. Additionally, your athletic performance, whether recreational or competitive, may be affected.
Dr. Zielonka is certified by the Canadian Institute of Biomechanics and can take the guesswork out of orthotics by using the only TQ1000 laser in Ottawa and the Footmaxx® gait scan (the most advanced computerized gait analysis in existence).
Selecting the Right Fit
Getting the best orthotic for you starts by having a consultation with Dr. Zielonka and his fully qualified staff. A wide selection of samples is available for you to look at in our office from specialized laboratories in Toronto.
The state-of-the-art TQ1000 laser and digital gait analysis measures the exact degree of overpronation and the fit you require. It is also used after your orthotics are completed to ensure they provide the necessary comfort, correction and support.
We are the only Ottawa custom orthotics provider that guarantees the fit, function and comfort of your orthotics in writing. They can be created for all types of shoes.
---
Custom Orthotics Ottawa ON | (613) 688-1036