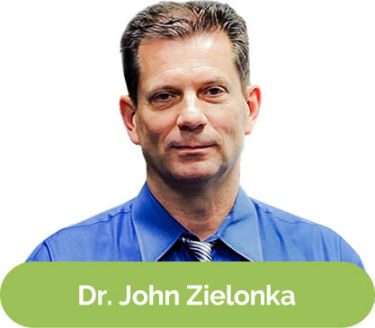 Meet Dr. John R. Zielonka
Enjoying the Benefits of Chiropractic
With parents who were ahead of their time in thinking about health, Dr. John Zielonka, B.Sc, D.C., C.O.H., A.R.T., C.C.R.D. started wellness chiropractic care when he was just 10 years old. Some years later, he was playing rugby when the chiropractor helped him return from an injury.
"An opponent tried to tackle me around the neck, but I kept running. At the end of the match, it seemed as if my neck was twice as long on one side.
The choices were to go to a medical doctor for a neck brace and painkillers to cover up the problem, or see the chiropractor. Within a few weeks of chiropractic care, I was back to normal."

Becoming a Doctor and Teacher
First, Dr. Zielonka obtained a Bachelor of Science in Chemistry from York University. He then went on to Canadian Memorial Chiropractic College, earning his Doctor of Chiropractic in 1991.
The word 'doctor' originates from a Latin word meaning 'teacher,' and I consider it my responsibility to educate patients on making informed choices.
Dr. Zielonka holds numerous postgraduate qualifications:
Natural Supplementation and Anti-Aging Fellowship
Certified Active Release Technique® Provider (ART®) from the University of San Diego Medical School
Certified Chiropractic Rehabilitation Doctor (CCRD)
Certified Occupational Health Consultant (COH)
Certified Canadian Institute of Biomechanics for the diagnosis and fitting of custom-made orthotics
Member, Society of Weight Training Injury Specialists (SWIS)
In Progress: Strength and Conditioning Specialist (CSCS) Certification
Numerous advanced nutritional and metabolic detoxification courses and certifications
Additionally, Dr. Zielonka is a member of the Canadian Chiropractic Association, Ontario Chiropractic Association, Canadian Memorial Chiropractic College, and the Eastern Ontario Chiropractic Society.
Serving Ottawa Families and Individuals
Staying involved in the Ottawa community is vitally important to Dr. Zielonka. He has spoken with thousands of people through his Human Performance Series, designed to educate on optimal health, making informed decisions, and taking an active role in health.
He has completed over 100 television interviews and is a published author.
Ottawa Chiropractic & Natural Health Centre has participated in an annual Christmas Toy Drive since 1989 and celebrates Kids Day International. Dr. Zielonka is the director in Ottawa for this organization and holds a yearly event that raises health, safety and environmental awareness for children. He believes strongly in giving back to the community and is involved with numerous charities. Dr. Zielonka is the founder of National Health Day in Canada.
When he is not helping others reach optimal health, Dr. Zielonka enjoys spending time with his family. He coaches his sons' softball and soccer teams and enjoys adventurous pursuits, such as rolling a fighter jet in the Mojave, taking a zero-gravity flight from Cape Canaveral and skydiving.
Dr. Zielonka has been voted Ottawa's Best Chiropractor in the Consumer Choice Awards for six years running. Get in touch with our office to make your appointment.