Chiropractic Care
State-of-the-Art Techniques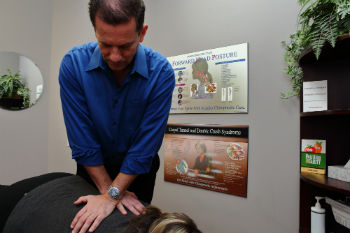 With unparalleled technology, Ottawa Chiropractic & Natural Health Centre is a unique clinic that accurately diagnoses your condition. Dr. Zielonka works to identify the underlying cause, determining the best course of action to achieve your goals and monitoring your progress along the way.
We often combine chiropractic adjustments with Active Release Techniques® to give you the greatest benefit.
Biotonix BioPrint Postural Analysis
When Mario Lemieux made his hockey comeback, he attributed it to this program.
Reflective markers are placed on your body, digital images taken and imbalances computer analyzed down to the exact millimeter. Exercises are computer-generated, prescribed just for you to rebalance your spine.
OTZ Technique
This new method is ideal for frozen shoulders, Bell's palsy, headaches and many other conditions. It utilizes adjustments that address the cranial nerves. People who have been frustrated with frozen shoulders for a long period can see a remarkable improvement in their range of motion.
Dr. Zielonka received the Consumer Choice Award for six years, chosen as Ottawa's Best Chiropractor. Reach out to us to schedule your appointment.