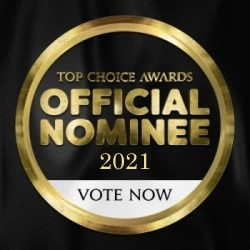 Ottawa Chiropractic & Natural Health Centre is honored to have been nominated for a 2021 Top Choice Award in the category of Chiropractic Clinic. We are delighted and grateful to receive this recognition. Dr. Zielonka also has been voted Ottawa's Best Chiropractor in the Consumer Choice Awards for six years running.
Your Support Is Greatly Appreciated
We would be deeply appreciative if you could take a few minutes to vote for us. Just go to the Top Choice Awards voting page. Chiropractic Clinic is the seventh category down. Voting enters you in a drawing to win 1 of 4 $500 cash prizes!
You will need to vote by December 20.
Our Commitment to Our Patients
At our practice, we are committed to delivering exceptional health care with integrity and respect. We are passionate about helping our patients achieve and maintain optimal health.
"Being recognized as a Top Choice Award nominee demonstrates our commitment to excellence. We will do everything we can to ensure that our patients get the best natural health care possible along with a fantastic experience at every visit," said Dr. Zielonka.
Offering a Suite of Services
In addition to chiropractic care, our practice offers the following:
We are truly honored that you have chosen us to be your chiropractic care provider. Delivering the highest level of care to you and your family always will remain our top priority.
Thank you in advance for taking the time to show our practice some extra love by voting for us!